Description
What Our CSA Is All About
We offer four main types of foods through our CSA:
Permaculture foods (i.e. currents, gooseberries, rhubarb, grape leaves) that grow year after year and support the soil
Foraged/wild-crafted foods (i.e. edible flowers, wild strawberries, dandelion flowers and greens, wild roses, cherry leaves, garlic mustard)
Foods grown from seeds (i.e. root vegetable greens like radishes and beets, and specialty greens and herbs like sorrel, buckwheat greens, shiso, shinguku, and amaranth)
Foods grown from transplants (i.e. eggplants, zucchini, heirloom tomatoes, basil, squash, peppers, tomatillos, potatoes, onions)
Though (especially in the summer) you'll find our weekly CSA bags include many things you'd expect in any CSA, like heirloom tomatoes the size of a baby's head, delicate fresh zucchini, and hyper-crisp salad greens, we specialize in growing things that are more specialty items.
We grow many things that hard to find commercially grown in our area as they're less conventional, but are very well suited to our climate and grown traditionally in similar regions around the world.
In particular, we draw from the agricultural and culinary traditions of southern Scandinavian, and the mountains of Japan and Italy.
While we love summer heirloom tomatoes as much as the next person (probably more, since we grow more than 20 different kinds each year!), this and other modern "every day" foods like cucumbers are neither native to nor particular well-suited to our area and these foods are often especially fragile to transplant, susceptible to illness, or depleting to the soil
Whenever possible, we prefer to focus on and introduce foods that naturally flourish in our area. We can't wait for you to meet them!
What's Included
In the beginning of the season, you'll start with primarily greens, herbs and spring onions, and, after the summer bounty, you'll wrap up in the fall with greens, herbs, leeks and larger squash like pumpkins. Our peak season farm shares reflect what would typically be 11-13 "vegetable units" at other farms, while our spring season bags are more like 6-9 "units" and fall bags are 8-to-12-ish depending on the weather.
In the peak season, you can expect to receive the following every week:
two bunches of greens (chard, spinach, radish greens, mustard greens, beet greens, lettuce, or specialty greens–type depends on season)
2 eggplants (sometimes one type or a mix of one italian and one long asian)
3-4 heirloom tomatoes
a box of cherry tomatoes
a bunch of green onions, garlic chives or leeks
1-2 bell peppers
1-2 hot peppers
2-3 zucchini or 2-3 summer squash
one bunch of tea herbs (mint, chamomile, lemon balm, lavender, lemongrass)
two bunches of savory herbs (oregano, sage, thyme, basil, mint, rosemary, dill, shiso, fennel)
bag of edible flowers (foraged or farm-grown marigolds or nasturtiums) or a bouquet
(in spring and fall) additional special treats just for our CSA members, such as a pesto, sunflower seeds, squash blossoms, or jam, in weeks with less to harvest to round out the rough edges of the weather affecting growing
How it Works
Each week, we make equal shares for all of our CSA members and pack them in reusable, insulated bags.
We have two bags available for each member; drop off the previous week's bag when you pick up the new one so that we can reuse it for you the following week!
You have three options for pick-ups:
You can pick up your share from our location in Ellenville after 2pm on Fridays. (We will send the address and pick-up information ahead of the beginning of the CSA season.)
On Wednesdays, you can receive your share as a delivery within our delivery route range for $200 for the season ($10/week). This encompasses the area we travel on the way to the Woodstock Farm Festival with some room on either side, including within ten minutes on either side of 209 between Ellenville and Kingston, the area around Woodstock, and the area around Kingston. There is an add-on fee for delivery, so be sure to choose that add-on if you'd like Wednesday delivery. You can see a map of the delivery area on the CSA and delivery pages in our shop.
On Sundays, you can pick up at our table at the Park Slope Farmers Market at the Old Stone House.
This is our Wednesday delivery range: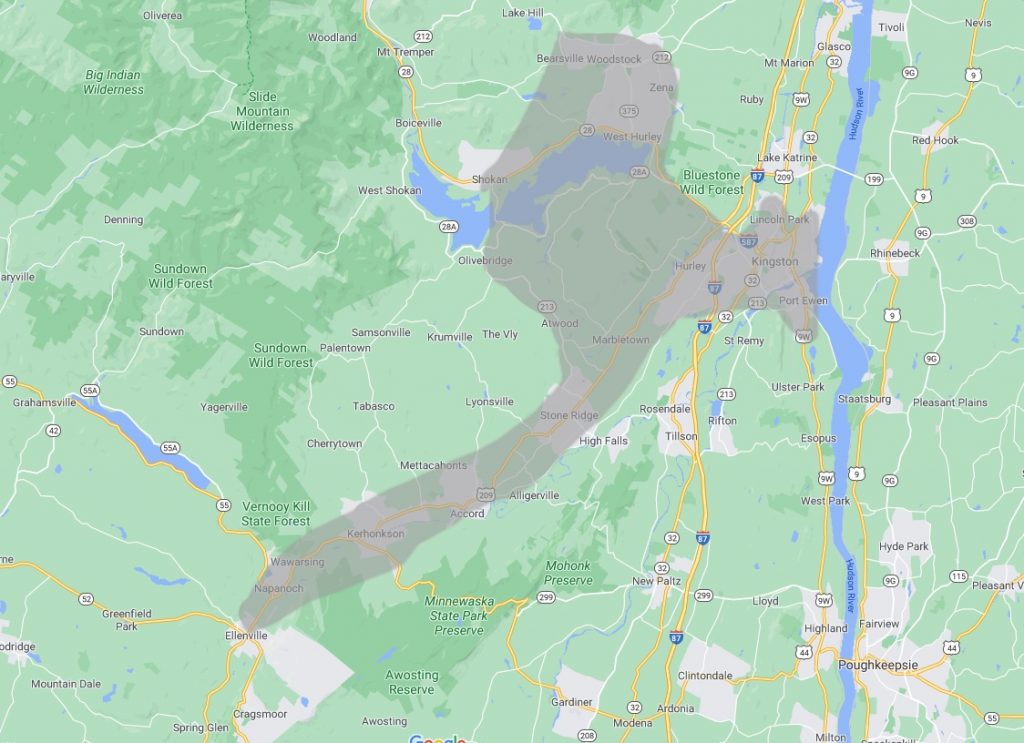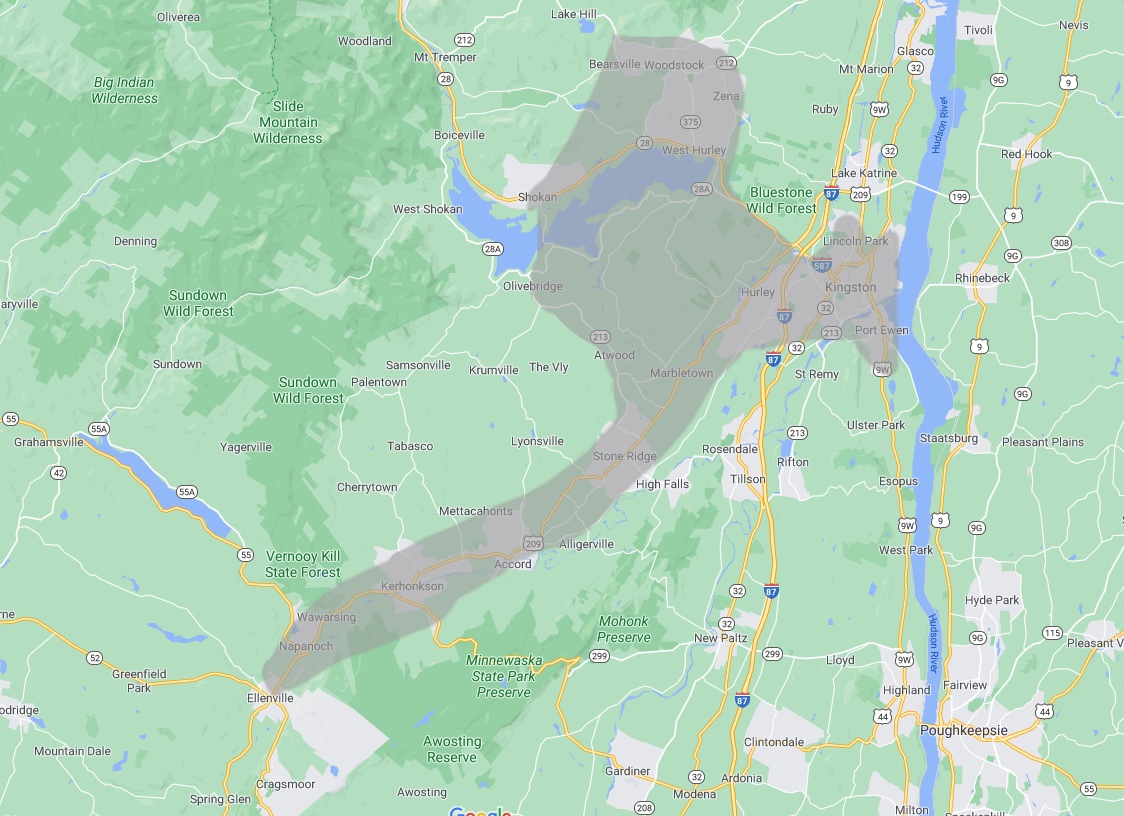 If you can't make your pick-up in a given week, if you give us 72 hours notice, we can try to arrange to give you two shares the following week, up to two instances per member, per season.
The 2021 Season
The 2021 CSA season will run for 20 weeks, beginning Friday, June 25, and ending Friday, November 5.
Pick-up dates for 2021 are:
Friday, June 25*
Friday, July 2
Friday, July 9
Friday, July 16
Friday, July 23
Friday, July 30*
Friday, August 6
Friday, August 13
Friday, August 20
Friday, August 27*
Friday, September 3
Friday, September 10
Friday, September 17
Friday, September 24*
Friday, October 1
Friday, October 8
Friday, October 15
Friday, October 22
Friday, October 29*
Friday, November 5
* Weekends market with an asterisk, we are at the Ellenville Farmers Market on Fridays from 4-8pm. If you live in the area, let us know when you would prefer to pick up your share at the Ellenville markets on the weeks that it is in session (the last week of each month).
What We Grow
Every year we test new items from seed, so there are many items that we don't have listed here that may make a surprise appearance!
These are items that we grow every year that we know grow well for us that you'll see in your share sometime during the season:
Mustard greens
Amaranth
Sorrel
Malabar spinach
Heirloom lettuce (it truly tastes better :))
Chard (many different heirloom favorites)
Beet greens
Onions (primarily special varieties like Red Tropea or Walla Walla)
Peas (pods and greens)
Fennel (both leaf varieties for tea and salad as well as bulbs)
Borage (an edible green that tastes like cucumber when cooked)
Zucchini and other squash (a mix of heirloom varieties each year
Heirloom tomatoes (more than 20 varieties of salad- and cherry-sized each year)
Japanese and Italian eggplants
Okra
Hakurei turnips
10+ varieties of hot and mild peppers
Buckwheat (greens and grains)
Heirloom potatoes and sweet potatoes (and sweet potato greens)
Sunflower chokes (like artichokes)
Many, many varieties of carrot greens (we grow these in place of parsley–much tastier and better texture!)
Many, many varieties of radish greens (usually about 10 each year)
More than 50 types of herbs, including many basils, dills, and cilantros
More than 20 types of edible flowers
We're all about French-style salads replete with herbs and antioxidant-filled greens or scrambled herbs with cherry tomatoes and herbs. Our greens made an excellent filling for home-made ravioli or addition to a pasta with local sausage, or simply saute them in a Greek horta or Japanese goma-ae style.
Whenever you need, we've got recipes at the ready. Just let us know when you pick-up and look out for weekly ideas in our pick-up reminder emails and on our Instagram page.
Please note that we do not grow the following and you will not see them in your share (we want you to know in case this is a deal-breaker for you!):
Cauliflower
Corn
Broccoli
Kale
Full-size carrots, radishes, or beets
Melons
We don't grow these items for a variety of reasons (they just don't grow well for us despite seasons of trying, rocky soil, pest management, heavy feeder that requires excessive added plant food). Thank you for understanding!
FAQ
Why don't you offer half shares?
We are a very small team and have onerous commitments each week outside of farming–baking bread, baked goods, and other treats for three large farmers markets a week. We offer one type of share so that we can pack the CSA bags with minimal mix-ups and management one end.
Why do I have to pay for the full season in advance?
At its core, a CSA or community supported agriculture arrangement is a compromise between the grower and the eater designed to offer benefits to both.
The veggie eater gets very deep discounts on produce and gets to skip the epic line at the farmers' market. Meanwhile, the grower gets money at the time it's most needed–when seeds, equipment, and transplants are purchased–and has the ability to plan what to grow tightly around what its buyers expect. I have truly not seen a more beneficial symbiotic relationship in 15 years as a food writer covering all aspects of the industry!
Why does the CSA cost what it does?
At $585, our CSA is in line with other CSAs in the Hudson Valley–less than quite a few even, especially considering that our season runs for 20 weeks.
This amount works out to less than $30 a week–and I can definitely tell you that you'd spend far more than that at the market! We regularly hear from shoppers that specialty greens fetch outrageous prices or that the price of heirloom tomatoes goes up every year.
Since many of our tomatoes clock in at more than a pound, you'd easily spend more than $20 just on those if you bought them at the market each week. We're especially proud of our tomatoes (as mentioned, we're a bit obsessed ;)), and we don't sell those at the Kingston Market–they're all for CSA members.
How are the shares packaged?
Each week, we make equal shares for all of our CSA members and pack them in reusable, insulated bags. We have two bags available for each member; drop off the previous week's bag when you pick up the new one so that we can reuse it for you the following week!
As with everything we sell, we only use compostable bags for anything that needs to be bagged individually, and non-toxic, unbleached, food-safe twine for anything that needs to be bundled. In hot weather, we use compostable water-holding wrappers on the bottom of greens to keep them extra fresh for you.
What is expected of you as a member?
The most important part of being a CSA member is committing to a shared, community experience. Overly commoditization commercialism goes against everything that CSA stands for, literally (it does mean community supported agriculture! No marketplace, transactionality, or one-sided-ness about it!).
While we are here for you with more than veggies–recipe support, a sense of adventure, and a desire to introduce you to things that are both new and wonderful–the best CSA partnership also depends on your participation.
Members agree to make their best effort to be at each scheduled distribution, respect that we have restrictions on doubling shares for missed pick-ups, and pay delivery fees if they need a share delivered, because they cannot make a pick-up. When pick-up up on-site, members agree to abide by the same COVID hygiene guidelines they do at farmers markets and not to roam the property unless explicitly scheduled in advance for liability reasons.
What do we commit to as a farm?
We agree to do everything within our control to provide you with a good variety and quantity of tasty, fresh, and organically grown produce. We will send a weekly email with a list of what will be available during the vegetable pick-up and confirming any add-ons you have select, and we will have those items harvested and ready for your scheduled pick-up. We promise to listen to your feedback and to continually improve the services we provide you.
Do you offer delivery?
Yes, you can receive your CSA to your door within our delivery range on Wednesdays. Learn more and see if you are in the delivery are here.
Do you offer any add-ons of your other products?
Yes, we have three add-on options this season for CSA members:
Bread share ($150 for the 20-week season): One freshly-baked sourdough sandwich bread each week. You can choose to have us surprise you with either a whole-grain or sifted bread each week, or confirm your option each week by email.
Granola share ($220 for the 20-week season): Two bags of our specialty season granola each week. Tell us your food preferences, and let us surprise you, or choose your option for your pick-up each week from our seasonal fruit and nut butter flavors, always made exclusively with New York-state ingredients.
Fruit share ($200 for the 20-week season): A sweet surprise each week of two portions of fruit from whatever we are jamming that week. This fruit will come from our partner farms throughout the season, starting with strawberries and blueberries in late June and July, moving through cherries, apricots, plums, and other stone fruits in the summer, into grapes and apples in the fall.
What other benefits am I entitled to as a member?
Our CSA members are incredibly special to us. Showing this faith by investing in us early in the season allows us to purchase seeds, transplants, and equipment without pulling money away from other areas, like helpers who allow us to do all of the baking and packing and still get a few hours to sleep on Friday nights!
To thank our CSA members, we offer 20% off everything else that we offer. Identify yourself as a CSA member at any of our farmers markets or use your special discount code to purchase or pre-order through our website.